Book your track day now and receive a discount of 50,00 Euros on a set Dunlop GP Racer Slicks! ……And we will mount and balance your set of tyres for free, that saves you 20,00 Euros more!
Trackdays4all organizes a double track day on Monday the 17th and Tuesday 18th of  June at the wonderful brand new track of Mettet in Belgium.
You can race two days, 5 sessions per day for only 199,- Euros!
It's also possible to book one day (Monday the 17th or Tuesday the 18th of June) for only 110,00 Euros.
Mettet is called the 'little Laguna Seca' because it has height differences and a real 'Cork Screw'. The track of Mettet is opened in March 2010 and the tarmac is very smooth and grippy! The paddock is also brand new and is equipped with toilets, showers and electricity.
With a length of 2310 meters, 10 corners and the famous 'Cork Screw' this is a very technical and challenging track. Perfect for practice track riding or get some training. Mettet has got everything: from short technical parts to extremely fast cork screws and small height differences. Furthermore, the circuit is very safe and conveniently arranged with good gravel beds.
All participants are divided into groups, corresponding to their speed and experience: there will be a beginners group, an advanced group(s) and a fast group. There is a sound limit of 95 DB; this is a quite larger norm (+ 7 DB) comparing to Holland but please make sure your bike is not exceptionally noisy; therefore no open racing exhaust without DB-killer are allowed!
New!!! Test the all new Ducati Panigale 1199 yourself.
Trackdays4all did made an exclusive deal with Ducati North Europe and we're getting the all new spectaculairDucati Panigale 1199 S!!! These Ducatis will be used for our instructors but you can also make a test ride on the track for free at all the events of Trackdays4all. Pay attention: you'll have to pay a deposit of 1.000,- Euros for possible crashes or damaging the motor bike.
Personal Coaching
For everyone who wants to make progression during this track event, we developed an exclusive coaching method which is done by using video data. The personal coaching is supervised Bach's DV-Productions and given by extremely experienced riders like Ron van Steenbergen, Danny de Boer and Ghisbert van Ginhoven. The costs per day are 175,00 euro; this includes your personal film images and a certificat. Click for more information.
Dunlop Race Service at Mettet
Will be available all day. You can come by for mounting, balancing or consulting about tires. We also sell tires at very attractive (racing) prices. Most of the tyre sizes are kept in stock; divergent sizes must be ordered in advance. The racing service also can provide other items like for instance the following: clip-ons, brake pads, handles, oils, lubricants, racing screens, paddock stands, and so much more….!
Suspension service
HK Suspension (Öhlins & Wilbers Suspension) will be available all days. They can adjust your suspension perfectly!
Photos
Ad Kievit from Wegrace Info is joining us again to shoot your action pictures. These pictures can be ordered there and will be sent to your home address.

Fuel
The closest fuel station is 200 metres away, all credit cards are accepted.
Restaurant
250 meters from the paddock you will find a fish & chips snackbar. But you can order also great meat & vegetable dishes.
Sleeping on the  Paddock: You can stay on paddock A (behind the old pit boxes) from Sunday 20:00h but you'll have to leave on Monday at 19:00h.
Hotels in the neighbourhood:
- Hotel Cobut, tel: 0032(0)82 699251, Reu de Sosoye 6, 5522 Falaen,  www.hotelcobut.be, 5 minutes of the track.
- Hotel/restaurant La Cité Impériale, Rue de Fosses 6, 5640 Mettet, tel: 0032(0)71 72 69 89, www.laciteimperiale.be, 4 minutes of the track.

Safety
It's required to wear an approved helmet, leathers (combi's are allowed), gloves, motorcycle boots and back protector. 
Costts
- Monday the 17th and Tuesday 18th of  June: 199,00 Euros
- Monday the 17th of  June: 110,00 Euros
- Tuesday the 18th of  June: 110,00 Euros 
Specifications Circuit Mettet

Length 2310 metres
Number of left corners; 7
Number of right corners; 3
Corkscrew (hight difference of 4,5 metres)
Total hight difference; 14 metres
Length start/finish; 500 metres
Width track; 12 – 14 meters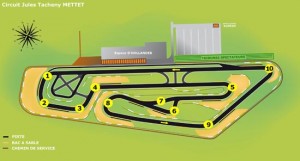 - Marshalls, practitioner and ambulance available.  
- Situated between Charleroi and Dinant, 125 km from Calais (Dover) and 100 km from the Belgium border.
Circuit Mettet Jules Tacheny
6, rue Saint Donat
B-5640 METTET
Belgium
Tel: 0032(0)71710080
www.circuit-mettet.be
GPS: N 50° 18′ 15″ – E 4° 39′ 26″