Cartagena is located near the Mediterranean Sea in the South of Spain, where a warm gulf stream ensures a very agreeable climate… palm trees grow there, need we say more? For the past 10 years the average temperature in January was between 18ºC and 25ºC.
Circuito de Cartagena is a very challenging and quite technical with no less than 18 curves and a height difference of 9%. The tarmac quality is good and you get an excellent grip. This must be the reason why lots of racing teams in the WC Superbikes, the German IDM and the Dutch ONK use Circuito de Cartagena as testing circuit. There is no sound limit!!!
The circuit is located at the edge of Cartagena, at just 8 km distance from the amusing old city centre and harbour, where you'll find lots of restaurants, bars, nightclubs and hotels. There is also an excellent restaurant on the paddock where one can enjoy reasonably priced lunches and dinners.
 
Specifications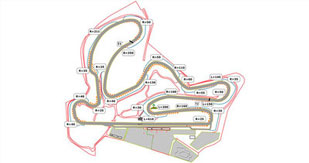 - Length: 3506 meter
- Width: 10-12 meter
- Length straight end start/finish 610 meter
- 18 curves, 10 right and 8 left
- Max. height difference 9%   
- Paddock: 52.000 m2
- Marshalls, practitioner and ambulance available

Carretera Aljorra km 2,6
CP 30391 Cartagena
Tel. +34(0)968315645
www.circuitocartagena.com